Service
Your Benefits
Greater availability through expert maintenance
Secure planning of production and maintenance
Shorter downtimes
Maintenance
Professional servicing increases the service life of the boiler plant and increases reliability. The choice of a suitable spare parts supplier can also minimise downtimes and reduce losses in production. We will assist you in the implementation of your maintenance strategy.
Inspections
Procurement of spare parts
Planning and implementation of maintenance work
Pressure vessel examinations
Boiler cleaning
Periodic chemical analysis
Repairs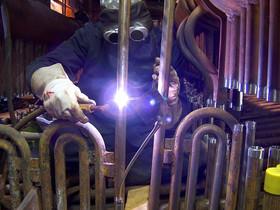 Calls us for both scheduled and unscheduled maintenance work. We will determine the required work sequence, procure the spare parts, supply qualified boiler welders and ensure compliance with official regulations. With our extensive experience we are able to minimise the boiler downtime and reduce possible failures in operation.
To avoid further damage, we will assist you in the investigation of the causes.
Spare parts for SULZER® boilers
We stock original replacement parts and maintain a wide network of relationships in the procurement market. We attach utmost importance to the choice of materials and suppliers. The materials planning for the most important replacement parts for SULZER® boilers goes back to the models of the 1950s.