News
29.01.2014 - New Website launched
We are pleased to present VAPEC products and services on our newly designed Website. The new web pages give a clear presentation of everything about our high-voltage electrical boilers and information on our services and areas of expertise in plant construction.
12.12.2013 - VAPEC celebrates 10th company anniversary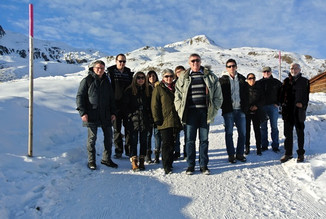 In December 2013 VAPEC AG celebrated the company's 10th anniversary. As an owner-operated business, in recent years VAPEC AG has developed from a service provider to an internationally successful company in the industrial energy generation sector.
VAPEC AG celebrated this anniversary with an event from 12th to 14th December 2013 in the Alpine district of Arosa in wonderful weather. The highlight of the 3-day company outing was a visit to the internationally famous Arosa Comedy Festival.
This anniversary provides us with the opportunity to thank all our customers, suppliers, business partners and staff without whose trust this continued growth and success would not have been possible.
29.08.2013 - Two new boiler systems for the BOSSONS heating plant, Lausanne
VAPEC AG has received a contract from the gas and district heating works for the City of Lausanne (SGC) for the supply and commissioning of a 24 MW district heating system.
The City of Lausanne gas and district heating works (SGC) is building the new BOSSONS heating plant as part of the expansion of the city's heating network and in order to connect new customers. The supply and scope of services provided by VAPEC AG comprises planning, engineering, delivery, installation and commissioning of two hot water boiler plants each with 12 megawatts capacity.